Manny Pacquiao vs Chris Algieri Highlights. Full Fight Highlights.
FREDDIE ROACH SAYS MANNY PACQUIAO TOLD HIM THAT HE'LL KNOCK OUT CHRIS ALGIERI: "I'M ABSOLUTELY EXPECTING A KO"
By Ben Thompson | November 20, 2014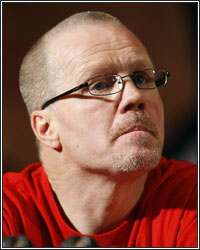 "He's in great shape. We used a lot of strength work and a lot of heavy bag work. He's punching better than ever and him coming back down to a better weight for him; instead of 147, he's fighting at 144 this fight. He's a better puncher at that weight and we're going to have our first knockout in awhile," stated Freddie Roach, world-class trainer of WBO welterweight champion Manny Pacquiao, who is adamant about his fighter scoring a knockout victory over undefeated jr. welterweight champion Chris Algieri this Saturday. According to Roach, Pacquiao himself told him that he'll deliver a knockout victory.
"He hasn't knocked anyone lately and he wants to get that fire back and he wants a knockout, and [this is] the first time he's ever told me that he will knock this guy out. I mean, that's motivation because the press is saying he's lost his punch because he hasn't knocked anyone out in awhile. At 144, the punch is coming back," Roach explained during a recent conference call to promote the bout. "It's something that Manny wants. The thing is, we know that you can't go out there looking for a knockout and you just gotta set up and let it happen, to be honest with you. And with his speed and power, the way he's punching, I believe it will happen, but we're not going out there looking just to get an early KO. We will set it up and it'll be by design and not by luck. I'm absolutely expecting a KO."